Products IBERIA
Inline Borehole Element Recognition and Identification Analysis
The reconnaissance of deposits is done by extensive exploration drilling. The borehole debris is collected for later analysis in the laboratory. This is a time-consuming and expensive procedure. Furthermore, the derived samples represent an average of a remarkable drilling distance so that information about small shifts will be lost.
The borehole probes developed by JCB are based on X-ray fluorescence and offer the logging of the borehole immediately after drilling. The results are therefore available in time and can be transferred automatically into a deposit map. This enables an active control of the deposit reconnaissance, using the BOSTON software.
Partner organizations in mining countries like Australia, Canada, Chile, South Africa or Peru are ready to support local operation of IBERIA probes.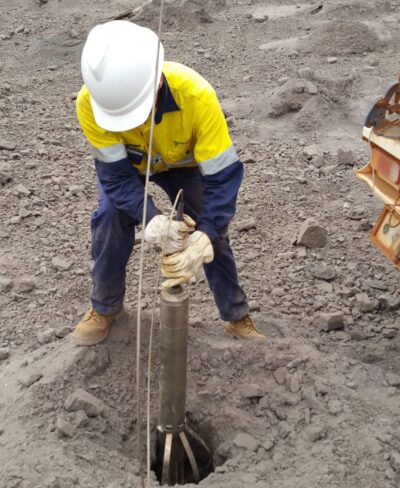 There are many different applications with a variety of requirements for IBERIA. Therefore several different versions of IBERIA were developed to meet these demands. All diameters of IBERIA are also available as REE version which uses a special X-ray tube to excite rare earth elements.
All IBERIA downhole probes can be operated from standard 4-wire winches. Together with our custom operator unit it can be quickly deployed and integrated into different winches and on-site setups.
IBERIA 125
IBERIA 95
IBERIA 70
IBERIA 53
IBERIA MPT
Diameter
125 mm
95 mm
70 mm
53 mm
65 mm
Length
600 mm
680 mm
1200 mm
1800 mm
900 mm
Weight
12 kg
9,5 kg
8,7 kg
7,9 kg
9,8 kg
Max. X-ray Energy
65 keV
40 keV
50 keV
40 keV
40 keV
Communication with surface
TCP/IP
TCP/IP
TCP/IP
TCP/IP
TCP/IP
Operating temperature
0..30 °C
0..30 °C
0..50 °C with cooling tip
0..50 °C with cooling tip
0..30 °C
IP protection
54
54
65
65
65
Winch cable
4 conductor
4 conductor
4 conductor
4 conductor
6-8 conductors
Max. depth
150 m
200 m
600 m
600 m
60 m
Software
BOSTON/Windows 10
BOSTON/Windows 10
BOSTON/Web application
BOSTON/Web application
BOSTON/Web application
Power Supply: Probe
(through Operator Unit)
200 V DC
200 V DC
250V DC
250V DC
60V DC
Power Supply: Operator Unit
84..264 V AC
84..264 V AC
Main Power Specification
100-240V AC 50/60Hz / 500W max
Main Power Specification
100-240V AC 50/60Hz / 500W max
Main Power Specification
100-240V AC 50/60Hz / 500W max
IBERIA 70
This tool has evolved from the Iberia 95 and is expanding the target element range to lighter elements while also providing shorter measurement times at the same precision. Furthermore this probe is the first to include software and hardware based distance correction for the XRF measurement system.
With a diameter of 70 mm this borehole probe can be used for most exploration holes. Besides blast holes, diamond drilled holes with sizes NQ/76mm and larger can be measured. A changeable X-Ray-window configuration ensures good measurements on different borehole wall conditions. A cooling system keeps up the measurement performance for operations in hot environments, even with desert-like temperatures of up to 50°C.
Transmission signals may be disrupted when they are obstructed by too much interference of ore (e.g. iron, copper). To counter any loss of precious measurement data we developed a probe that utilized a communication technique which enables measurement in great depth, limited primarily by the water level in the hole. Together with a data buffer in the probe this leads to a connection that would withstand rugged conditions – and without losing precious data.
IBERIA 53
IBERIA 70 and IBERIA 53 were developed together. With its eponymous diameter of 53 mm it rounds off the portfolio downwards and is particularly suitable for diamond drilled NQ but also for BQ holes. The features of the 70 mm probe are also found in the little sister; interference-free transmission with data buffer, shorter measuring time compared to the previous probes as well as an effective distance correction.   
The greater length of the IBERIA 53 is reduced to less than 1 m for transport by cutting it in the middle. With the highly portable operator unit, the system forms a mobile unit that can be easily transported and quickly deployed.   
IBERIA MPT
Real time measurement of element concentrations by utilizing our MPT technology. The Metal Probing Tool (MPT) contains a x-ray fluorescence based detector which measures metal concentrations. The detector is build in a small probe which can be advanced into the tailings material by static force.
We can use all kind of equipment for pushing the probe like CPT-trucks and units, Direct Push rigs (Geoprobe) or hydraulically driven stand alone rigs.
You can find more Information with our Partner GECCoTec.
IBERIA 95
This tool has an outer diameter of 95mm. Designed for bigger diameter exploration holes, this tool provides a fast downhole survey down to 200m depth while continously delivering elemental analysis data of the borehole wall. The window layout and ruggedness targets heavier elements at typical concentrations.
IBERIA 125
Iberia 125 has an outer diameter of 125mm. It is designed to quickly survey production holes with diameters of more than 150mm. The elemental composition of the material blasted next is available directly after probing and therefore allows to increase the resolution of the rescource model and to do short term mine control.
IBERIA MPT Services provided by GEccOTEC
GEccOTEC provides MPT services based on IBERIA probes. Scope of service are:
Rental of IBERIA MPT and other MPT probes including MPT truck
Service personell experienced with IBERIA/MPT
Data evaluation and modeling
Extended services comprise bioleaching of tailings containing base metals or other commodities in relevant concentrations.
IBERIA XRF is Co-funded by the Horizon 2020 programme of the European Union, Grant agreement ID: 945804